| | | |
| --- | --- | --- |
| RM-063 | | |
| | | |
| | | |
| --- | --- | --- |
| RM-065 | | |
| | | |
General Specifications
Resistance range
100Ω-1MΩ
Tolerance
±30%
End resistance
5% max. Of nominal value
Reslstance taper
Linear (B)
Wattage rating
0,1 watt
Roatation torque
80-300 grm/cm
Rotation life
±15% max. for 100 ratations
Stop-end to que
0,5kg/cm min
Rotation Angle
200°±20%min.
Temperature Characteristics
+5-30%Max. 5hours / 70°C of the normal resistance
Load life
±5% Max. 3 hours rated load
Load life in humidity
20% Max. 350 hours rated load in 90% RH 40°C
Mechanical strength
Bakelite base not be broken down add ing force on 1 kg min
Max soldering-iron tip temp and allowable time is at 250C for 2 secretary.
SIZE CODE CAPACITANCE AND VOLTAGE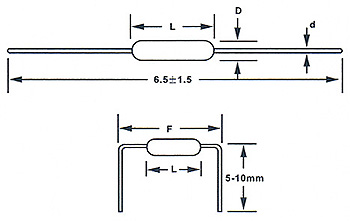 Size
code
Dimensions (mm)
Voltage
Capacitance
(PF).(μF)
L max
D max
F
d
COG (NPO)
X7R
Y5V (Z5U)
17
4,30
2,50
5,00
7,50
0,5
25V
50V
100V
10-1000
10-1000
10-680
330-0,033
330-0,033
330-0,022
0,01-0,33
0,01-0,22
20
5,10
3,00
7,50
10,00
0,5
25V
50V
100V
560-4700
560-4700
390-3900
0,01-0,10
0,01-0,10
4700-0.082
0,01-0,47
0,082-0,47
PACKAGING STYLE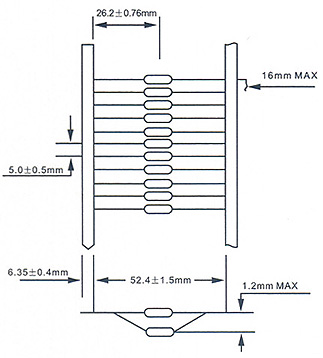 Packaging quantity (pcs)
| | | |
| --- | --- | --- |
| Size code | 17 | 20 |
| Tape reel | 5000 | 5000 |
| Ammo package | 5000 | 5000 |
| Bulk package | 500 | 500 |
| Bulk package | 1000 | 1000 |